Known for its artistic heritage, canals, narrow houses and lush green landscapes; Amsterdam is one of the most beautiful and my favorite cities of Europe.
Its brick buildings, biking culture, and open skyline: everything about this place is amazing and makes you feel like coming back to this place again and again.
A cute little city, it offers so many things. It is, in fact, one of the hidden gems when you talk about gastronomic delights and shopping adventure.
There are vibrant cafes, restaurants, and bars reflecting the city's true international nature.
The Essentials
Homemade Fries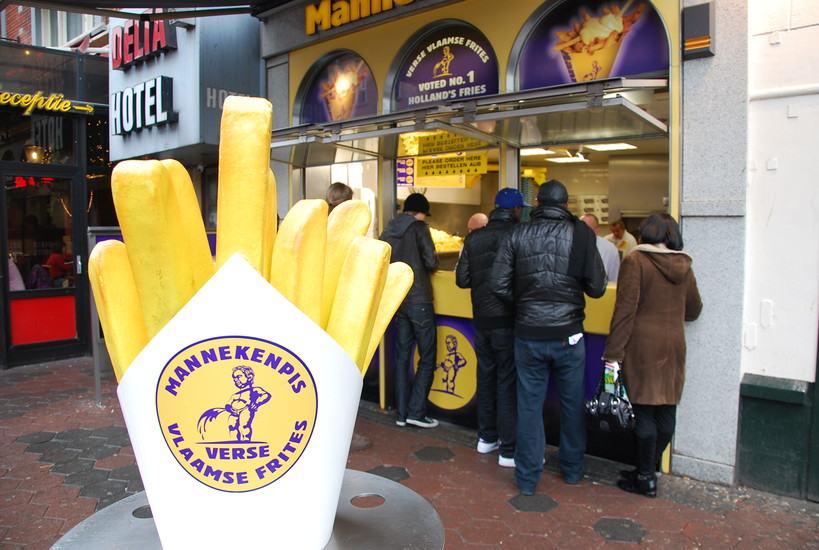 Walking close to Dam square, it is difficult to spot people who are not eating Manneken Frites. The homemade fries and a variety of sauces (kept overnight) will give you the best Belgian experience possible without minting a hole in your pockets.
 Waffles
Chocolate waffles and pancakes are something you set your eyes on the moment you're on the streets in Amsterdam. The Dutch, too, have a sweet tooth!
Almost every café and dessert shop offers waffles and pancakes, but you can't afford to just give it a try and intake so many calories especially if you're a calorie conscious person like me (which I'm not on a holiday)!
Waffle with chocolate sauce and salted caramel ice cream at Metropolitan is super delicious and worth every penny you spend on this calorie-rich dessert.
Chinese
Even though you get the best of cuisines in this town, it's difficult to resist Chinese when you cross some amazing wok restaurants. The good news for those who love Chinese is that the best wok restaurants are located all around the city center.
Whether you're looking for some amazing food or a healthy meal, you know where to head to.
Café and Coffee
Not to forget my favorite "coffee", Amsterdam is famous for its cafes. And the cafes here don't only serve coffee. As you might have heard before, the weed is legal here. You can easily get it from coffee shops here in Amsterdam.
Talking about coffee, you get to see the best views while sipping your cappuccino at Starbucks or various other coffee shops.
If you fancy going to a café where Bill Clinton once had a cappuccino and a famous apple pie, you may think about visiting Café Papeneiland.
Cheese
When you're in Amsterdam, you can't miss Dutch delicacies: gouda cheese and bitterballen. Washed down with cider and beer, they are hard to resist and must-to-try.
Shopping
When there are women traveling, the shopping becomes an essential part of the trip. I always decide not to enter the fancy shops while traveling and spend maximum time outside to soak the vibe and beauty of a place. Sadly, it never happens! When you're in Amsterdam, it should not happen either, especially, when there is a sale going on in every favorite place of yours.
This city is a shopper's dream and houses various established and budding fashion brands.
The luxury brands, fashion chains, and international designers; the city houses most of them and is famous for its fashion and style.
There are a number of shopping areas in the beautiful and interesting neighborhoods. Are you looking for shopping from fashion chains? Stroll around the narrow streets nestled between the canals.
For designer and luxury boutiques or vintage shopping, there are special neighborhoods of The 9 streets, Oud Zuid and Waterlooplein. Quaint and quirky streets, enjoy strolling around (and some people-watching) even if you don't plan to shop till you drop!
Image sources: i1.trekearth.com, s.inyourpocket.com, cdn-image.travelandleisure.com, media-cdn.tripadvisor.com, media-cdn.tripadvisor.com